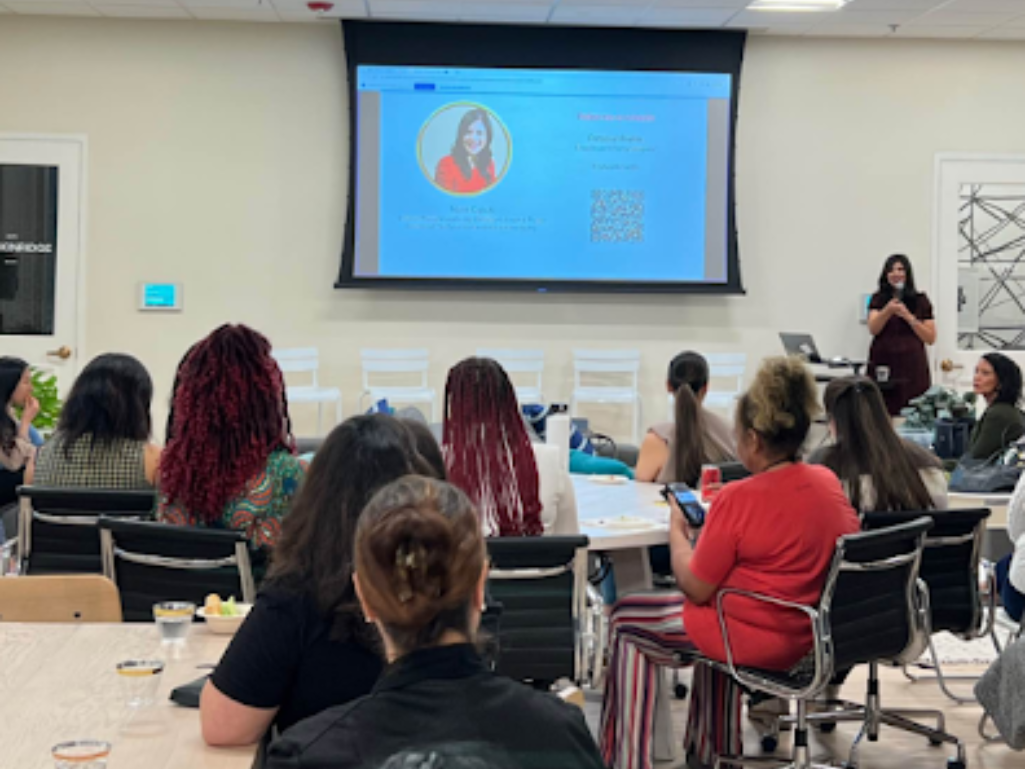 LinkedIn Training for your Team
Employee Advocacy on LinkedIn

LINKEDIN TRAINING FOR YOUR TEAM
Train Your Team to Effectively Leverage LinkedIn for Business Success
LINKEDIN INTENSIVE WORKSHOP
Are your employees showing up confidently on LinkedIn?
Or do they need guidance with creating profiles and content and connecting with the right people?
Would you like to provide them with the skills to level up their LinkedIn profile, presence and network?
That's where my LinkedIn Training Workshops come in.
I host LinkedIn workshops for corporate teams where I teach effective, strategic and implementable tips to complete and optimize their profiles, share their expertise and make valuable connections.
LinkedIn is the #1 and fast-growing social media site for professionals.
Providing your team with the tools to level up on this platform and build their professional brands is a strategic business decision that will benefit them and your company and accelerate your business development efforts.
What your employees will learn in the training:
1. Profile Optimization: Creating a profile that showcases their personal brand, unique experience and skills that helps them stand out from the competition and builds trust among those who might want to connect or follow them.
2. Content Creation: Crafting posts that will highlight their expertise and thought leadership, and attract the right audience as well as drive people to check out your company's service and offers.
3. Building a Network: Strategies that will help them connect and cultivate relationships with potential clients, partners and talent, nurturing these connections, and harnessing their potential for sustained business success.
4. Engagement: Effective techniques to effectively engage with their LinkedIn connections and foster meaningful relationships that can lead to sales inquiries, new clients and long-term business success.
5. Leveraging LinkedIn Features: Gain valuable insights into the best practices for utilizing LinkedIn's features, tools, and algorithms so that they not only stand out from the competition but also attract your ideal customers.
6. Questions: There will be enough time for your team to ask me questions on the content covered in the workshop or other LinkedIn related queries.
Investment:
Cost: $2500
Time: 2.5 hours interactive and engaging workshop on Zoom
Size: Up to 20 participants
According to LinkedIn research, employee networks on the site have 10 times the number of connections that company pages do.
Four out of five LinkedIn users drive business decisions.
Your company's or team's success on LinkedIn starts with training your employees in understanding how LinkedIn works and how to be active and engaged on the platform.
Empower your team to become LinkedIn power users. Reserve your spot today !
Contact me at nyna@nynacaputi.com
LINKEDIN PROFILE OPTIMIZATION WORKSHOP
You are aware that your employee's profile doesn't truly represent what they do, their personal brand, their unique skills, experience and expertise.
You realize the importance of having an optimized profile to attract potential clients, partners or employers.
I can help your team transform their LinkedIn profiles into a powerful tool that attracts opportunities, opens doors, and attracts new leads and talent.
Why LinkedIn Profile Optimization Matters
With over 950 million members, LinkedIn has become the go-to platform for professionals and businesses to connect, network, and showcase their expertise.
LinkedIn is indexed by search engines and one of the first things that shows up when people search for a name is the LinkedIn profile.
A LinkedIn profile is your employee's 24/7 digital reputation.
But here's the thing – having just any LinkedIn profile won't cut it. To stand out from the crowd and maximize impact, a profile needs to be strategically optimized and compellingly written.
By investing in my LinkedIn Profile Optimization Workshop for your employees, you can unlock a world of opportunities:
Increased Visibility: A strategically optimized profile ensures that they rank higher in LinkedIn searches, making it easier for potential employers, clients, and collaborators to find you.

Enhanced Professional Brand: Their profile becomes a powerful personal brand statement, positioning them as an industry expert and thought leader.

Networking and Connections: With an optimized profile, they attract relevant connections and networking opportunities, expanding their professional circle and driving traffic to your company page and website.

Builds Authority and Brand Promotion : A well-optimized LinkedIn profile enhances their credibility, brand reputation, fosters strategic relationships, amplifies your company's visibility, and consistently attracts clients to your business.
Workshop Information:
In this workshop I will do a deep dive into the key sections and features on a profile and how to leverage and enhance them for maximum impact and business success
Duration: 1 hours of comprehensive, engaging and interactive training
Customized Coaching: Benefit from personalized coaching tailored to your unique business requirements, specifically addressing the obstacles your team encounters with their LinkedIn profiles.
Investment Details:
Price: $1750
Flexible Scheduling: Secure your spot now and enjoy the convenience of scheduling the workshop within the next 6 months, based on your team's availability.
Ideal Group Size: Accommodates up to 20 participants, ensuring focused attention and maximum interaction.
Online Convenience: The workshop is conducted via Zoom, so your team members from any corner of the globe can attend.
Help your employees go from having an incomplete or mediocre profile to one that showcases their expertise and thought leadership
Empower your team to level up their LinkedIn profiles. Reserve your spot today !
Contact me at nyna@nynacaputi.com
WHAT PEOPLE ARE SAYING ABOUT MY TRAINING AND WORKSHOPS
"Recently, Nyna conducted a LinkedIn workshop for our team. She connected the dots for what our team is interested in and how to best leverage it to the outside world. Myself and our team are already implementing strategies based on Nyna's training, so I would definitely recommend connecting with her if you're looking to supercharge your LinkedIn efforts!" – Ryan Tweedy, Partner/VP at Maris Consulting Group
"Our company is big on employee advocacy and we have hired Nyna to coach and train our employees monthly in leveling up their profiles and presence on LinkedIn and getting active and involved in our company page. Since she started consulting and working with us, our followers and engagement on our pages have increased rapidly. I value Nyna's expertise as a LinkedIn coach, consultant and trainer and would not hesitate to recommend her to others." – Cynthia Stewart, Founder and President, Power Personnel

"Nyna hosted a LinkedIn workshop for our organization, Akron Women in Tech. Her presentation style was clear and engaging. She had the attendees naturally participating; we were drawn to engage with her! She got right into the content and answered all our questions without overwhelming the audience. We left with actionable skills and resources to learn more. I would highly recommend Nyna to other teams looking to leverage LinkedIn and networking skills for business relationship building." – Business Intelligence Consultant and Board Member of Akron Women in Tech
EMPLOYEE ADVOCACY ON LINKEDIN
WHAT IS EMPLOYEE ADVOCACY ON LINKEDIN
Employee Advocacy on LinkedIn is when a company empowers its employees to effectively optimize and use their personal profiles to amplify the messages being put out on the company page as well as share their own voices. By having a well-planned system of employee advocacy, a company will benefit from greater brand awareness across LinkedIn.
WHY IS IT IMPORTANT
Builds your leadership and employees personal brand and visibility

Showcases their area of expertise, their thought leadership

Increases employee engagement and retention

Boosts your company and brand awareness, products, services and reputation

Increases your recruiting efforts

Drives your sales pipeline
Work with me to create your employee advocacy program on LinkedIn
Create a pilot employee advocacy program strategy based on company's goals

Identify and create a team of employee brand ambassadors for the program

LinkedIn profile optimization for company leaders

Work with the leadership team to create a social media policy program

Train the executive team and employee brand ambassadors on optimizing LinkedIn profiles, content creation, building a network

Review, optimize or create a Social Media policy with leadership team on guidelines for using LinkedIn

Monitor and optimize the program with the employee brand ambassador
This is a three month commitment. Rates vary based on the number of training participants / sessions .
Contact me at nyna@nynacaputi .com for a complimentary meeting on Zoom to discuss how we can work together to create and implement an Employee Advocacy on LinkedIn Program at your company or organization.4.