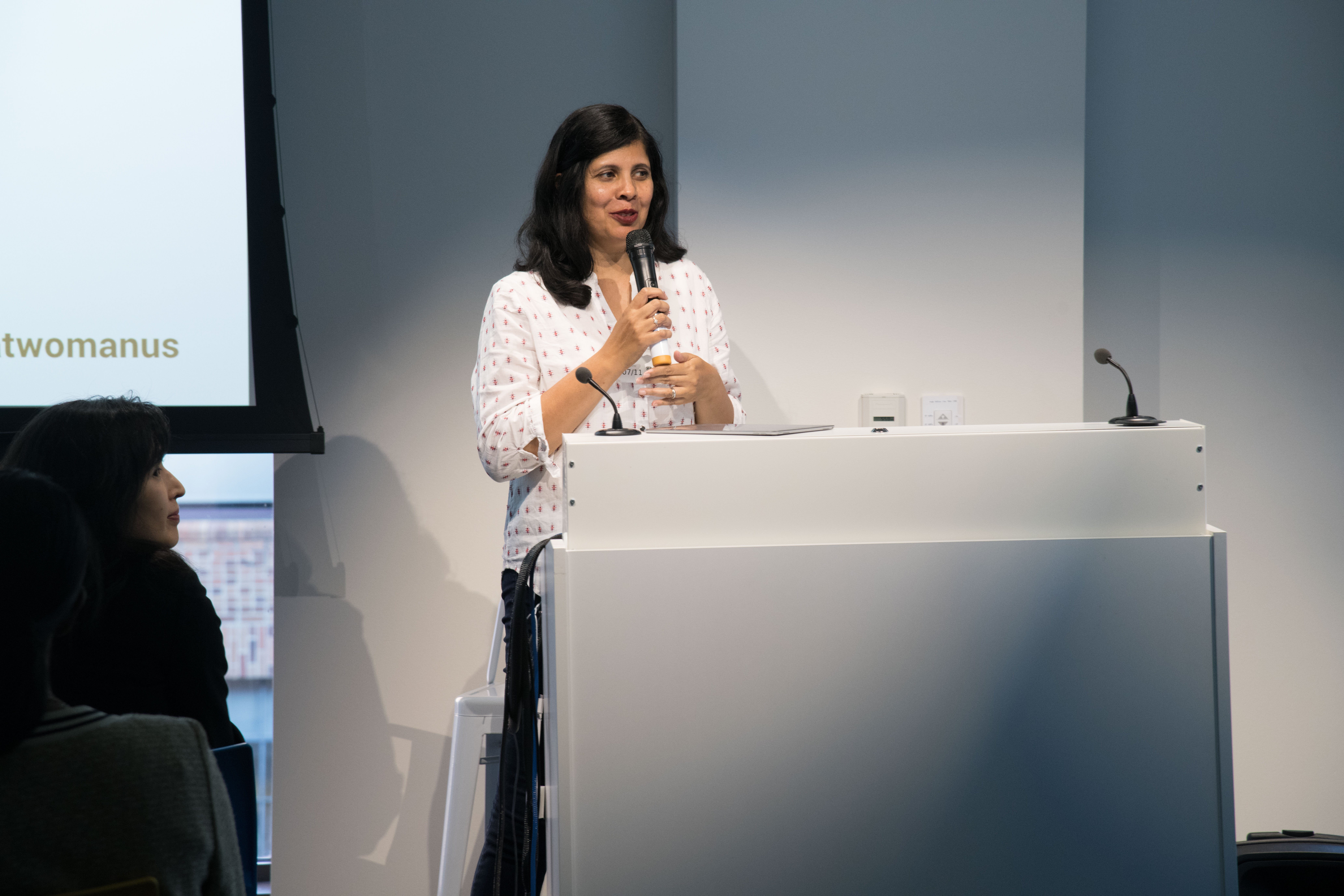 Are you looking for a speaker for your next event, conference, corporate or ERG event or on your podcast?
I am an international motivational speaker, workshop and event host, and podcast guest with a focus on helping professional women to step out of the shadows, show up and stand out from the crowd by helping them build a powerful personal brand and promote themselves and their skills through a power LinkedIn presence and through hosting virtual events.
I have hosted 300 plus in-person and virtual events, conferences, and workshops at companies like Google, Yelp, GoPro, Microsoft, ThredUp.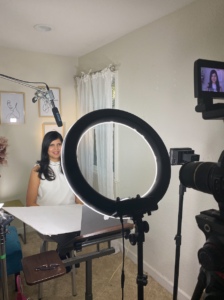 These are the topics I speak on:
How to Overcome Impostor Syndrome
How to Optimize your LinkedIn Profile to Stand Out
 Power up your LinkedIn Presence
How to Build your Personal Brand
How to Host Successful Virtual Events to Showcase your Business or Expertise to Generate Leads
SPEAKING ENGAGEMENTS
WORKSHOPS
Facilitated workshops for Advent Software's Equity and Excellent Employee Resource Group on Overcoming Impostor Syndrome to Stand Out and Win and also on The Power of Networking.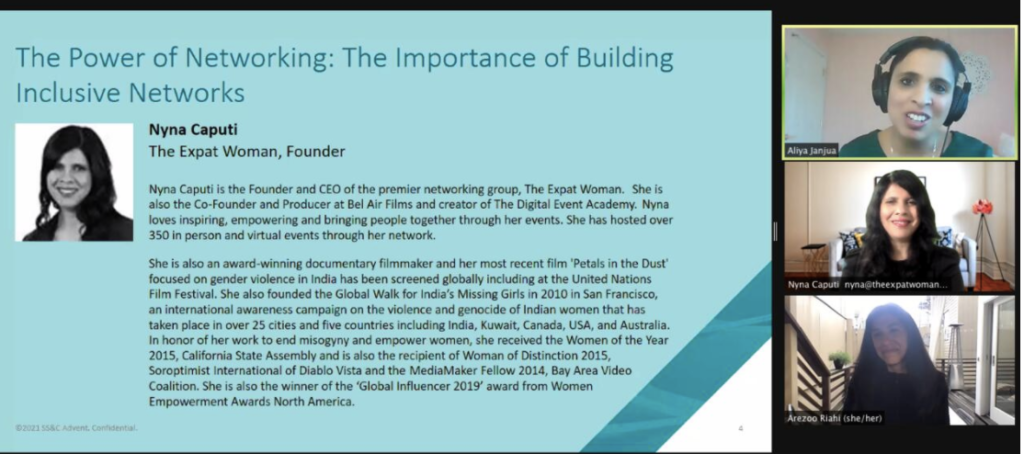 Facilitated a Workshop for Women of Indeed, Bangalore on Overcoming Impostor Syndrome.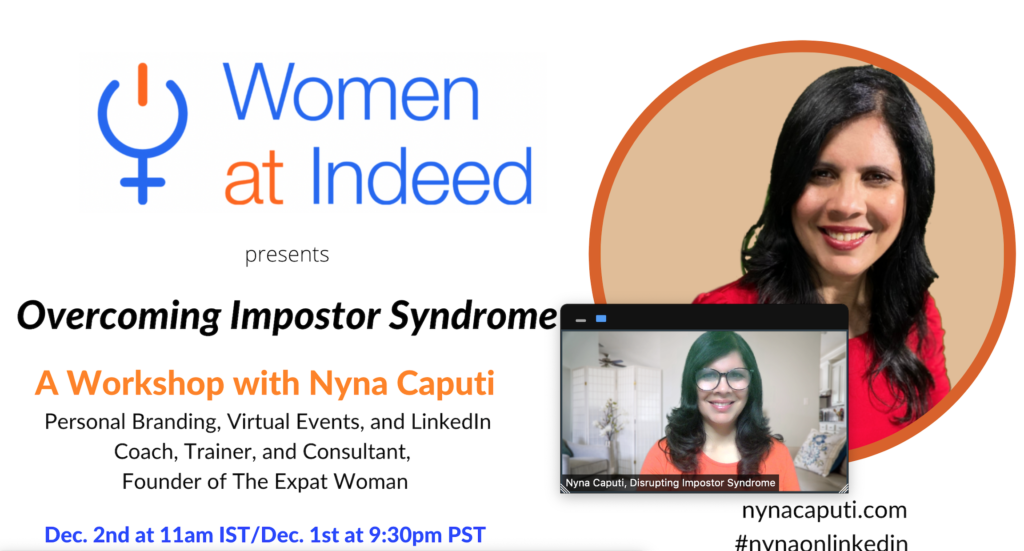 Facilitated workshops for small business owners, jobseekers, and corporate employees on Optimizing your LinkedIn Profile to Stand Out,  Leveraging LinkedIn to  Get Noticed, How to Step Up, Stand Out and Stride into Your Success and How to Host Virtual Events to Create Community, Build Credibility and Get Clients.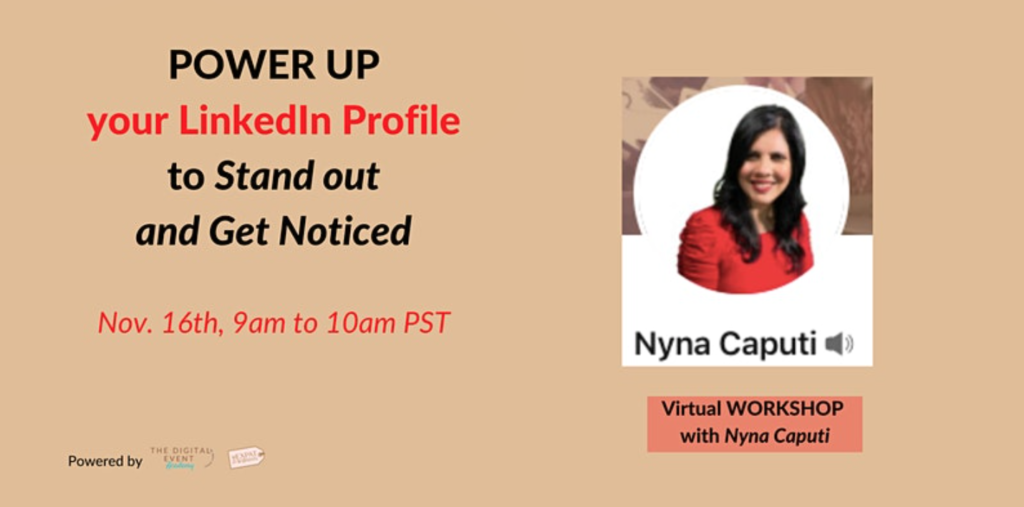 Want to invite me to be a guest speaker for your company, employee resource group, university or organization? Email me at nyna@nynacaputi.com
CONFERENCES
Featured Speaker at the first Virtual Clubhouse Summit on Hosting Successful  Virtual Events.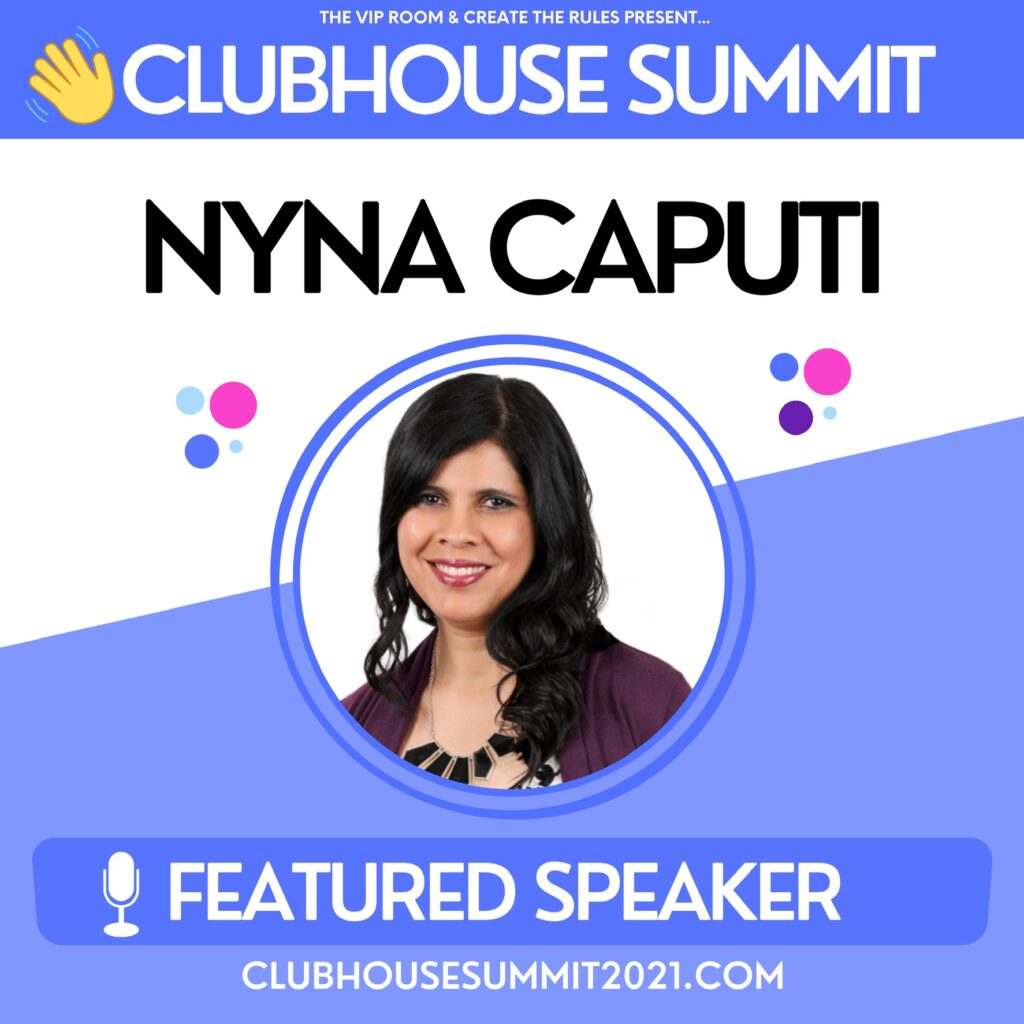 Featured Speaker at the Start Yours Virtual Conference on Hosting Virtual Events and Using LinkedIn to Grow your Business.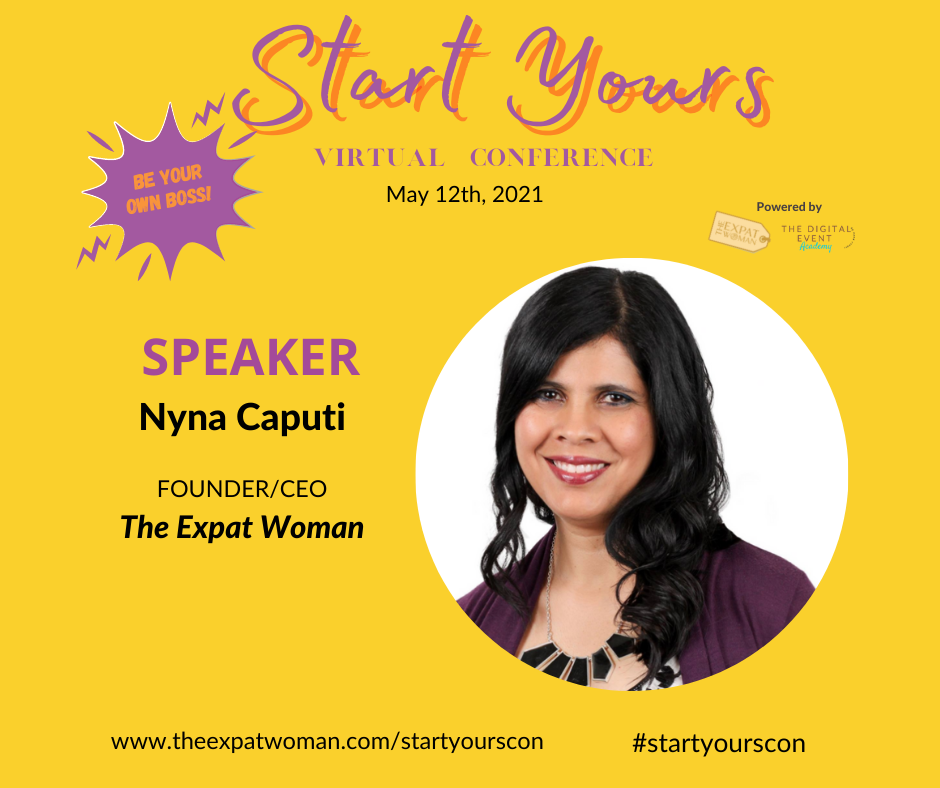 Featured Speaker at the Empowered Women's Conference and the Survive and Thrive Abroad Summit on How to Overcome Impostor Syndrome.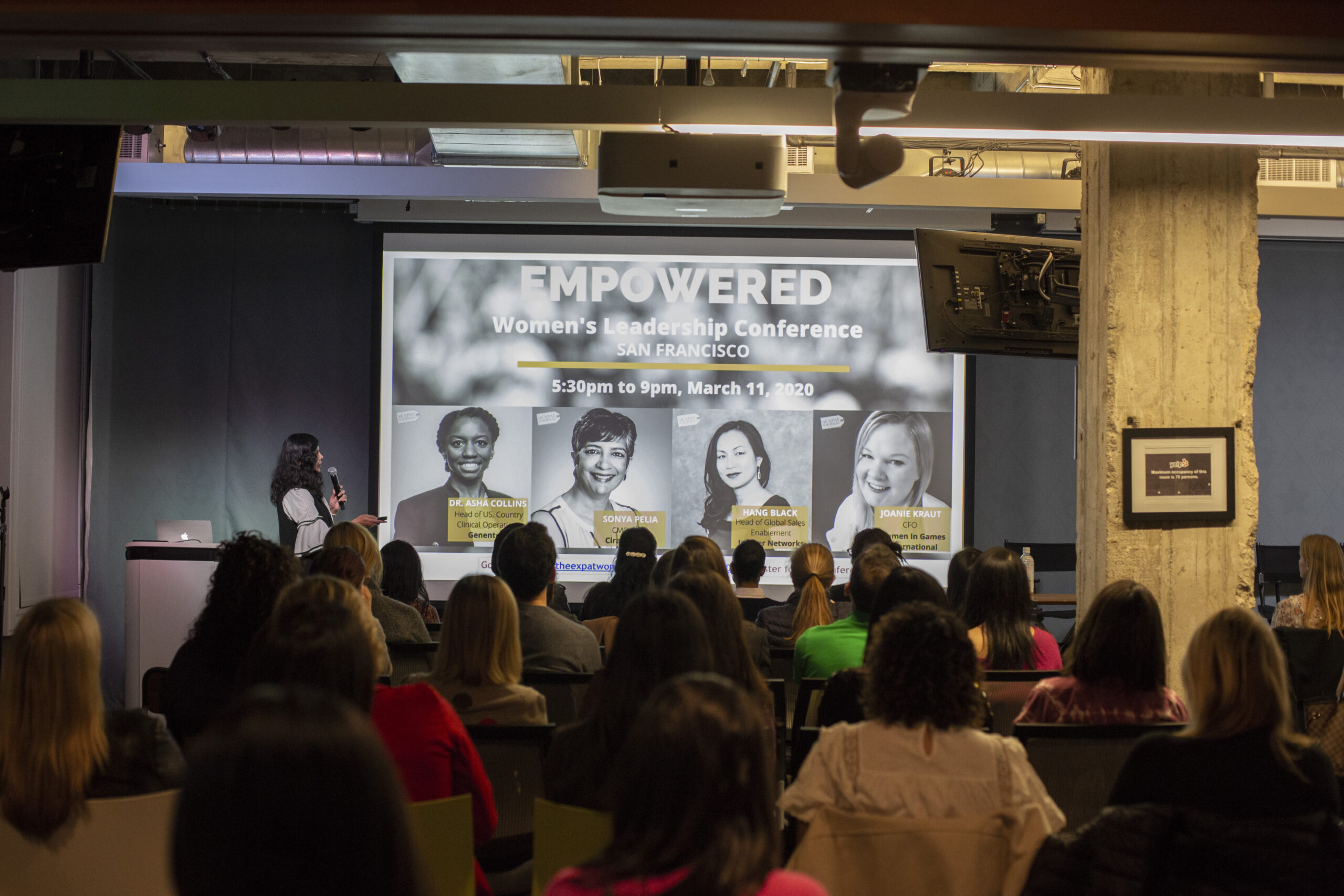 Want to invite me to be a guest speaker at your event? Email me at nyna@nynacaputi.com 
PODCAST GUEST
Visit my media page to view the podcast shows that I have been a guest on.
Want to invite me to be a guest on your podcast? Email me at nyna@nynacaputi.com 
TESTIMONIES
"We invited Nyna Caputi to deliver the workshop "Overcoming Imposter Syndrome to Stand Out and Win" to our organization. Nyna's Imposter Syndrome Workshop is a game changer! It's a must for anyone battling their inner critic. I wished I had taken this workshop early in my career. I had several co-workers reach out to me to share how valuable the workshop was to them and how engaging Nyna was as instructor.  Thank you Nyna for delivering the workshop to SS&C Advent!"
– Aliya Janjua, Director, Client Services at Advent Software
"The Women@Indeed Bangalore Chapter partnered with Nyna to conduct a workshop on Impostor Syndrome for all employees of the Bangalore office in December.
This was by far one of our most successful workshops and a lot of the credit goes to Nyna. She has the knack of engaging and involving all attendees, drawing out everyone to participate and share their experiences and views. Nyna provided an atmosphere of positivity and security while also being a discerning subject matter expert.
We received very positive feedback after our session and are eager to have her conduct more workshops for the teams here.
If you are looking for an engaging facilitator who conducts workshops on relevant topics, I would definitely recommend partnering with her."
– Shonalee Damodar, Senior Manager, Client Business Success, Indeed and Site Lead Women@indeed Bangalore Chapter
"Nyna, I really enjoyed your session today "How to Step Up, Step Out, and Achieve".  Like many professional women, I've read books, articles, listened to podcasts, you name it, about how to create your brand and get noticed in an increasingly noisy and competitive space. Yours is among one of the better I've seen out there. You have a real gift for taking complex topics and distilling them down into simple steps that are easy to remember and use. Thank you."
– Crystal Ellis
"Thank you, Nyna, for the wonderful workshop on "Overcoming Impostor Syndrome" that you hosted for us and for accommodating this out of your time zone! We had great engagement and some good preliminary feedback from the audience. "
– Sahana Harish, Director- Inside Sales at Indeed.com
How are you going to Step Out, Stand Out and Stride into your Success?
Here are some FREE Resources to help you unleash your inner potential and get noticed and succeed.
GET STARTED WITH HOSTING VIRTUAL EVENTS
Your Guide to Hosting Profitable Events
GET STARTED WITH LEVERAGING LINKEDIN 
Join my Let's Do LinkedIn Facebook Group
GET VISIBLE AND STAND OUT
Learn How to Get Noticed in this 5-Day Free Challenge