Don't be a lurker. Get active and build your digital trail on LinkedIn.
I recently did a poll on LinkedIn asking recruiters what was the first thing they looked at on a potential candidate's profile.
Although I didn't have activity listed in the poll, several mentioned in the comments that they looked at the activity section in the profile.
And it's not just recruiters who look at activity on a profile.
Anyone who wants to learn more about you, your interests or expertise, or just how active you are on LinkedIn will check out your activity section.
When I get a connection request or want to connect with someone I usually look at their activity section.
If they have not been active on LinkedIn for more than 30 days, I may not connect as one of my goals on LinkedIn is to build and nurture relationships and engage in conversations.
Your activity is very prominent on your profile and it showcases your personal and professional brand. Every time you create or post content, like, comment, or share something on LinkedIn, it becomes a part of your profile.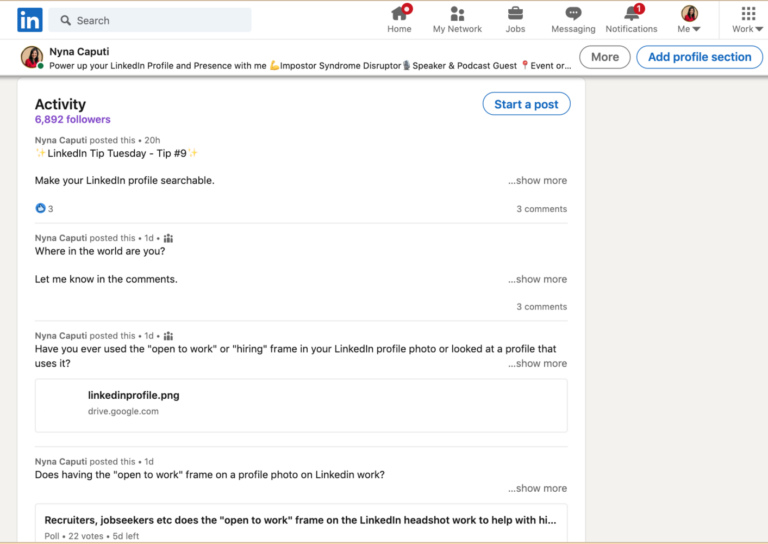 Your most recent (currently 4) LinkedIn actions are displayed right above your work experience.
Your activity stays on your Profile permanently. If you click "See All Activity", you will see a list of all your past actions.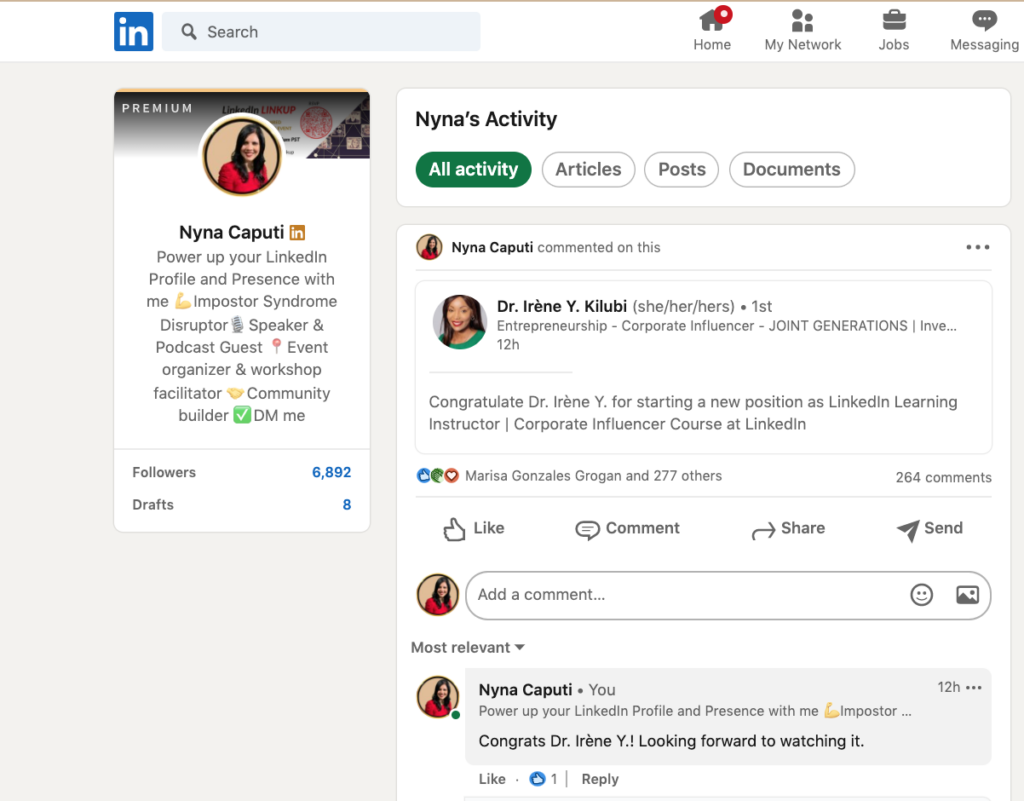 Your activity creates your digital trail on your LinkedIn profile and helps you get more visibility and stand out from the crowd.
Don't be a lurker, start getting active on LinkedIn.
Be intentional and make sure it showcases your personal or professional brand, your interests, your expertise.
Here is how to get more active…
CREATE AND POST YOUR OWN CONTENT
There are so many choices. Polls, posts, articles, caroussels, images, videos.
NOTE: If creating content is too overwhelming, you are not comfortable doing it or you don't currently have the bandwidth, start by sharing or commenting on other people's posts.
➡️ All you need is just 15 minutes once or two times a day doing this to keep the activity section on your profile active.
2. SHARE AN ARTICLE, POST OR EVENT
When you share a post from other LinkedIn user, add your opinion or thoughts to the post or why it resonates with you.
3. COMMENT
This is a fantastic opportunity to not just build your activity but also get more visibility, nurture relationships and grow your network.
If you see a post, article or video on LinkedIn, don't just react to it. Leave a comment as well.
Here are some ways to find posts to comment on
1. Go to your newsfeed to see posts from people in your network that are relevant to what you do or who are your target client.
2. Curate your feed so you see only posts from people that you are interested in engaging with.
3. Search for hashtags related to your expertise or interests.
TIPS ON COMMENTING
✅ If a post resonates with you, react to it and also leave a comment.
❌ Don't post comments like "great post" or "I love the tips you shared."
✅ Add value or showcase your expertise by leaving meaningful comments, thoughtful feedback, or ask an insightful question.
✅ Make sure you tag the person who created the post, so they receive a notification from LinkedIn about your comment.
✅ Also, read the comments of other people and comment on their comments.
✅And don't forget to respond to comments on your posts.
➡️ Commenting on posts is also a fantastic way to build, cultivate and nurture relationships.
ACTIONABLE TIP
✨You can start building your activity section by commenting and/or sharing this newsletter.✨
LINKEDIN NEW FEATURE
Ring my bell! I just got mine. 🛎
LinkedIn introduced the bell feature in late 2021.
Like most new features, they are still rolling this out.
So if you don't have one as yet, don't panic.
The bell is featured on the introductory card of a LinkedIn profile, right below the banner, on the far right.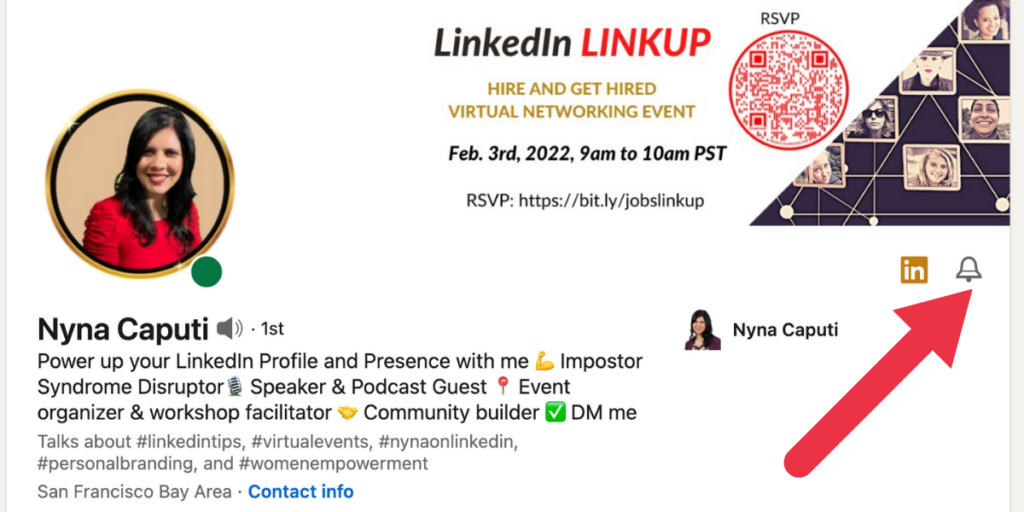 The interesting thing is you currently can't see the bell on your own profile.
Ever since this feature was released I had my husband check my profile through his LinkedIn account to see if I had got it.
And a week ago the bell finally showed up on my profile!
HOW DOES THE BELL WORK?
If you like someone's content on LinkedIn and want to see all of it or more of it in your newsfeed, go to that person's LinkedIn profile and click on their bell ( if they have one ).
The bell will turn from white to grey with a circle around it.
And you will see the message pop up – " Receive notifications for all new posts from…"
It indicates that want to receive a notification whenever this person publishes something new.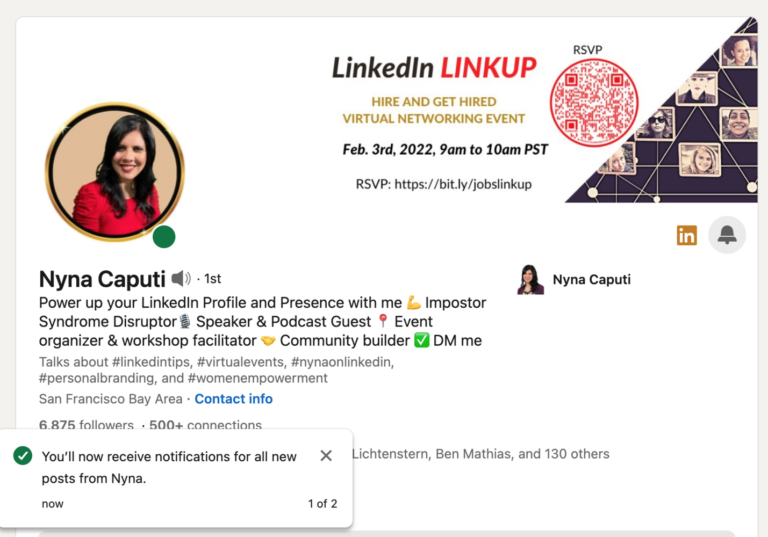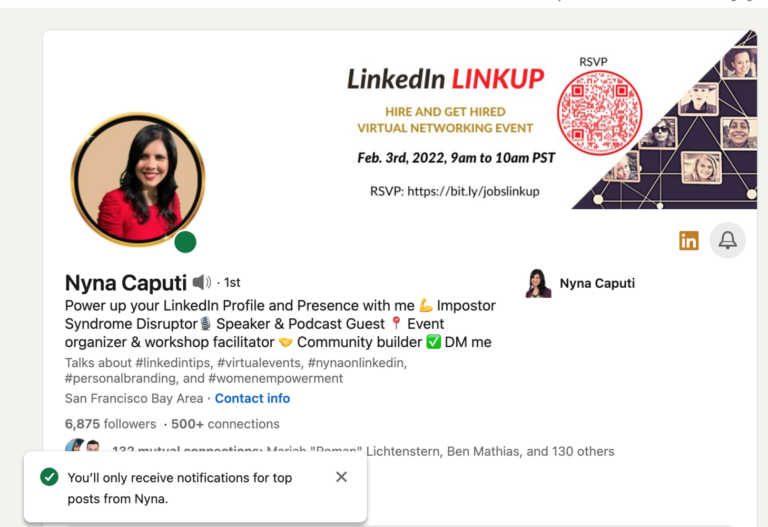 2. If you only want to be notified of their top performing posts, click the bell again so it changes from grey to a grey outline with the circle around it.

And you will see this message pop up. "You will receive notifications for top posts from …"
NOTE: If you want to turn off notifications, you can click it again, turning it back to white.