"If everyone is moving forward together, then success takes care of itself." – Henry Ford
People buy from people!
People trust people!
Whether you are a team of two or have 100s or 1000s of employees, empowering them to build their personal brand and their network and showcase their thought leadership and expertise on LinkedIn can have tremendous benefits for them and for your company.
 Employee Advocacy on LinkedIn ( Building a Team of Brand Ambassadors on LinkedIn) and leveraging LinkedIn as a Powerhouse for B2B Businesses has been listed as some of the biggest trends impacting digital marketing that can help grow your success in a recent Forbes Article.
Employee Advocacy on LinkedIn is when a company empowers its employees to effectively optimize and use their personal profiles to amplify the messages being put out on the company page as well as share their own voices.
I recently did a poll asking people to vote yes or no to the question "Do you check out employees' profiles and content on LinkedIn when you are looking at working for the company or doing business with them?" and 97% of the people who participated said yes. You can check out the poll and add your vote here.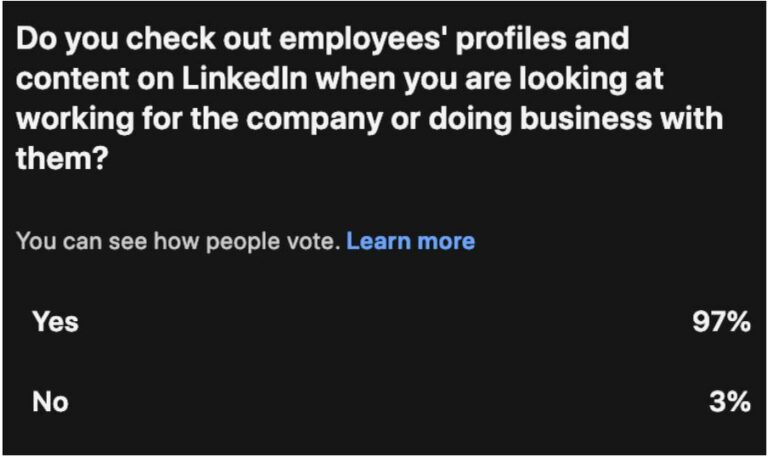 "If I am going to work for a company, I am shamelessly stalking every team member I can find on LinkedIn to see tenure, backgrounds, posts, comments, industries, level, diversity on the team, etc etc etc.
It is life changing to have a great team who supports growth, works well together, and can become friends. We spend SO much time working, why not try and get a good picture before taking the leap to another company ?" – Morgan M., Talent Acquisition at Flyr Labs
Here are some statistics on the power of employee advocacy on social media.
1. A survey by MSL Group, showed that content that is shared by employees receives eight times more engagement than content shared by brand channels, and employee advocacy can increase your brand reach by 561%.
2. Brand messages are re-shared 24 times more frequently when distributed by employees through employee advocacy vs the brand. (Business2Community)
3. 79% of firms surveyed reported more online visibility after the implementation of a formal employee advocacy program. 65% reported increased brand recognition. (Hinge Marketing)
4. Content shared by employees receives 8x more engagement than content shared by brand channels. (Social Media Today)
5. An employee advocacy program costs 1/10 of paid advertising (or less). (EveryoneSocial)
6. An employee advocacy program can drive 16% better win rates, 2x pipeline, and deliver 48% larger deals. (EveryoneSocial)
7. Employees of companies that are active on platforms like LinkedIn are more likely to stay at their company, feel optimistic about their company's future and believe their company is more competitive. ( Prophet)
8. Companies with a successful employee advocacy program are 58% more likely to attract, and 20% more likely to retain, top talent. (LinkedIn)
9. Companies with highly engaged teams have a 41% reduction in absenteeism and a 59% reduction in staff turnover. (Forbes)